Division of Continuing and Global Education
Craft Beer 201: Home Brew Challenge
(Related courses--Craft Beer 101; Craft Beer 301: Sensory and Styles)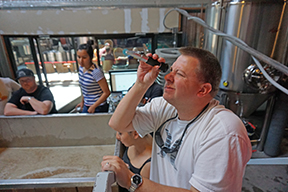 This course will let you get "hands-on" with the home brewing process and compete with other teams to develop the best Brew U beer! The series begins with a full brewing demonstration, followed by a refresher on ingredients and processes. Under the guidance and supervision of 411 Brewing staff, your team will develop a custom recipe and brew your own beer using home brewing equipment. (Bring your own team, or we'll set you up with one in class.) At the culmination of the course, each team's brew will be evaluated by a BJCP (Beer Judge Certification Program) judge to determine the best recipe, which will then be produced by Full Circle Brewing. There is a $20 materials fee for recipe ingredients which is payable at the first class meeting. Class meets at Fresno State's Downtown Center and Full Circle Brewing Co.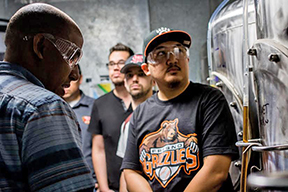 Dates, times, location: Saturdays, January 12, 19 & 26, 10:00 am -12:00 pm (at Downtown Center), & Saturdays, February 2, 9, 16 & 23, 2019, 10:00 am - 12:00 pm (at Full Circle Brewing Co.)
Fee: $350. Class No. 37629. REGISTRATION CLOSED
Preregistration recommended by January 4, 2019.
Instructor: Joseph Soleno is an award-winning brewer with professional experience running systems ranging from 5-100 bbls. Starting his roots here in the Valley, he pursued an education in fermentation science at the UC Davis Extension program and gained his experience with numerous breweries throughout the west coast. He has since moved back where his passion for beer and love of Downtown Fresno collided, founding 411 Broadway Ale & Spirits.