Division of Continuing and Global Education
Meet the Dean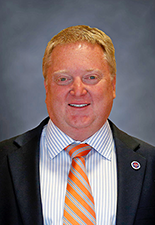 A first-generation college student, Dr. Scott Moore is the dean of the Division of Continuing and Global Education, having previously served as the associate dean and interim dean. He joined the campus in 1997 as an assistant professor.
During his time in Extended Education, Moore has secured institutional approval for multiple certificates and degrees operating in self-support. Additionally, Moore has applied to establish Fresno State's first fully-online degree completion program, Fresno State's Bachelor of Liberal Arts which is currently under final review.
Moore is the Principal Investigator of the Veterans Education Program, supported by grants and donations. Designed to provide access and educational opportunity to US veterans, Fresno State's Veterans Education Program delivers specialized curriculum to ease the veterans' transition from military to civilian roles and has twice been invited to present to the CSU Board of Trustees.
Moore opened the first satellite campus for Fresno State, a strategic partnership with technology business in the downtown area of Fresno undergoing revitalization to offer professional development programs.
Moore is active in campus curriculum design and accreditation, serving on the campus' WASC accreditation committee as well as the "Meaning, Quality and Integrity of the Degree" sub-committee and is author of graduate and online substantive change petitions. He continues to publish articles encouraging educational access to historically underrepresented groups.
Moore holds professional certificates from WACUBO's Business Management Institute, U.C. Berkeley's Executive Leadership Academy, the American Association for State College and Universities, the Western Interstate Commission of Higher Education, and Harvard's Institute for Management and Leadership in Education. Moore has served as an officer of the Board of Directors of the United Way of Fresno and Madera Counties as well as member of the board to the Downtown Fresno Foundation and the University Studies Abroad Consortium. Moore previously served on the Fresno Unified School District's Career Technical Education Advisory Board and as a grant reviewer for the National Oceanic and Atmospheric Administration and is the past President of Fresno State's Chapter of the Honor Society of Phi Kappa Phi.
With a background in both Psychology and Communication, Moore accepted an invitation to become the outside-Chair of the Department of Philosophy. After being promoted to Professor, his alma mater, the University of Oklahoma, named him the "T.W. Adams Distinguished Alumni Lecturer" before joining the Division of Continuing and Global Education where he continues to find access opportunities to lifelong learners in California's Central Valley.
More Information