Division of Continuing and Global Education
Accelerated Bachelors Degree in Business Administration (ABBA)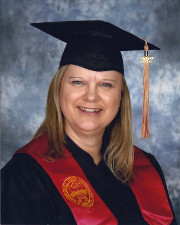 I was excited to learn that Fresno State offered the ABBA program, which allowed me to continue to work full-time and attend classes at night and on Saturdays. I was able to earn my Bachelor's Degree at the prestigious Craig School of Business. This achievement will open many doors for me and give me an advantage when applying for a job.
-DeAnn Hailey, ABBA Graduate
---
About the Program
The Accelerated Bachelor's Degree in Business Administration (ABBA) enables students to complete the last two years of their degree within 17 months. Students complete the program as a cohort from start to finish. The cohort format guarantees students' placement in the necessary classes each semester.
ABBA courses are scheduled to allow students to work while completing their degrees. Face-to-face classes are scheduled during the evening and weekend hours or online. Courses are taught by distinguished Craig School of Business faculty.
The 61-unit program is designated as a "special option" within the Craig School of Business, and coursework emphasizes general business administration. Students interested in a more specialized curriculum should consider applying for regular University admission as transfer students and selecting from the available options in the Craig School.

Locations
ABBA cohorts are offered in Fresno and Visalia. The Fresno cohort meets in the University Business Center at California State University, Fresno and holds class meetings on Tuesday and Thursday evenings and alternating Saturdays. The Visalia cohort meets at the Fresno State Visalia Campus and holds class meetings every Wednesday evening and Saturday. Classes meet year-round (fall/spring/summer), excluding occasional breaks and holidays.
Fees and Financial Aid
Fees for the ABBA program are paid on a per-unit basis. The current ABBA fee is $368 per unit and the entire program costs $22,448. Financial aid is available for eligible students. The table below breaks down fees for an ABBA cohort that begins in the fall semester:
Term Fees

| Term | Units | Fees |
| --- | --- | --- |
| Fall | 18 | $6,624 |
| Spring | 16 | $5,888 |
| Summer | 7 | $2,576 |
| Fall | 20 | $7,360 |
| Totals | 61 | $22,448 |
Learn More
Visit the ABBA website for more information about this program, including application dates for upcoming cohorts in Fresno and Visalia.
For additional information, please contact Dr. Sal Rana, director of the University Business Center, at 559.278.2352 or srana@csufresno.edu.
---