Division of Continuing and Global Education
Public Speaking Bootcamp for New Executives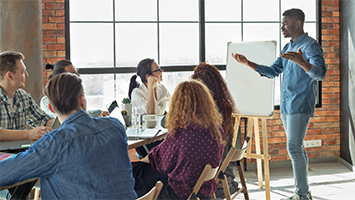 Your new position as an executive will require you to speak in front of many different audiences in a variety of settings. Learn how to overcome your anxiety and project confident leadership with the skills you'll gain in this five-session bootcamp experience.
This immersive and hands-on course consists of five weekly classes, two hours each, with each class building upon the last. It includes a live performance component that will require the drafting and delivery of a short, five-minute speech to put your newfound skills to the test.
The course will cover:
Fear and speaking anxiety
Lessons from historical and current speakers
Storytelling, story arcs and speech structure
Voice modulation and tonality
Presentation techniques
Body language and stage presence
Preparation and stress-relieving techniques
Impactful delivery
If you are a new executive and struggle with speaking anxiety, this course will provide you with tools and techniques to comfortably tell your story and communicate with clarity and confidence.
Dates: Mondays, October 4 - November 1, 2021 • 6:00 pm - 8:00 pm (10 hours total)
Location: TBA
Class No.: 77857
Units: Non-credit
Fee: $300
Preregistration recommended by September 27, 2021.
REGISTRATION CLOSED
Instructor: Diana R. Diaz is a public speaking coach with a master's degree and over nine years of marketing, community development and facilitating experience. She teaches individuals how to speak powerfully on and off the stage with unshakable confidence.
Also of interest: Public Speaking for New Executives Workshop (2 hours)