Division of Continuing and Global Education
Unlock the Secrets of Wine Tasting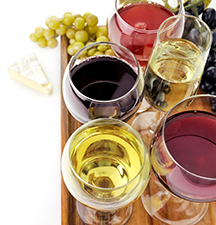 If you've always wanted to know more about what's in your glass of wine, join us for a fun and educational journey through the mysteries of wine taste and smell. Led by Dr. Kristy Sun from Fresno State's Viticulture and Enology Department, this workshop will cover:
Human senses
Sensory thresholds
Taster's tool kit, serving temperature and decanting
Wine tasting methodology: How to see, swirl, smell, sip and savor wine
The secret of blind tasting: impact compounds
Wine selection for holidays and wine guide for food pairing.
Step-by-step tastings; one flight of white wines and one flight of red wines
This non-credit class is open to all (ages 21+) who have an interest in learning more about wine tasting and selection. You'll learn the different grape varieties and wine styles, be able to critically evaluate and describe specific wines, become a knowledgeable wine buyer, learn how to pair food and wine, and build a foundation for a lifetime of wine appreciation.
Students should bring three wine glasses to the workshop. The instructor will provide a tasting guide, tasting mat, tasting journal, three white wines, three red wines, water, crackers, and tasting spittoon.
Date: Saturday, November 10, 2018
Time: 9:00 am - 12:00 pm
Location: Downtown Center, Room 2, Bitwise South Stadium, Van Ness at Mono
Fee: $95 (includes supplies). Class No. 77929. Pay online at the red Register button below, or download registration form (PDF) here.

Preregistration recommended by November 2, 2018.
Instructor: Dr. Qun (Kristy) Sun graduated from Cornell University where she majored in Wine Chemistry. She is an assistant professor in the Department of Viticulture and Enology at Fresno State. She currently teaches Introduction to Enology, Wine Chemistry, Analytical Methods for Wine, and Wine Tasting Techniques.
REGISTRATION CLOSED