Division of Continuing and Global Education
Making Social Media Work for Small Businesses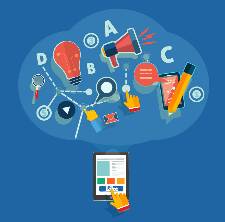 Find out how social media can promote and support your business. Do you know which sites are best for you—Facebook, Twitter, Instagram, LinkedIn, Pinterest, Google Plus, blogs? You will learn to navigate the world of social media with practical applications and strategies you can implement immediately.
Date: Monday, November 21, 2016
Time: 6:00 pm - 9:00 pm
Location: Downtown Center, Bitwise South Stadium, Van Ness at Mono
Fee: $110. Class No. 77469. This class has been cancelled.
Instructor: Travis Huff is the CEO/Founder of Realtime Outsource, which was awarded the 2015 Entrepreneur of the Year Award by the Fresno Advertising Federation.