Division of Continuing and Global Education
How to Make New Year's Resolutions—and Keep Them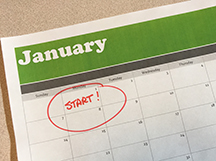 The beginning of the New Year seems like the perfect time to start fresh by setting goals that will make next year better. Research indicates that approximately half of the population makes resolutions each New Year. However, the large majority lose steam and fizzle out on their goals after the first few weeks. It's a predictable path. Your resolve fades fast, you give up on your goals, and a little slice of your self-confidence gets sacrificed along the way. Why do so many of us have a hard time keeping our resolutions? The reasons for our failures can vary. But by carefully selecting your goals and setting your intention, you can shift the odds of success in your favor. Join us to focus on how to make realistic resolutions that you are more likely to keep. You'll leave with a written plan on how to succeed at your goals.
Date: Tuesday, November 14, 2017
Time: 6:00 pm - 7:30 pm
Location: Fresno State Downtown Center, Room 2, Bitwise South Stadium, 700 Van Ness at Mono
Fee: $35. Class No. 77574. Pay online at the red Register button below, or download registration form (PDF) here.
Registration recommended by November 7, 2017.

Instructor: Linda Gannaway, Ed.D., worked at Fresno State for more than 25 years and retired as director of the Learning Center. She is now a speaker, consultant, and author of The Power of Life Lessons: How to Learn Your Lessons and Create the Life You Want.