Division of Continuing and Global Education
Exploring the California Missions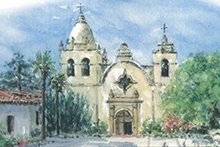 From San Diego to the San Joaquin and Salinas Valleys, to the rugged coastlines of Monterey and San Francisco, and inland to Sonoma, El Camino Real traces the path of California's 21 historic missions. Under the leadership of California's founding hero, Father Junipero Serra, Spanish priests and their Indian converts built these imposing and beautiful structures that are the earliest monuments of modern California.
You may recall your fourth-grade study of the California missions…now take a grown-up look at these historic structures, many of which still operate as active Catholic parishes, and their role in the history of the Golden State.
Join Janice Stevens and Pat Hunter to explore the enduring architectural, artistic, and cultural heritage of the California missions. This study of the missions will reveal the full history of California itself, from Father Serra's pioneering labors, to the conquest of the land's agricultural wealth, to California's painful transitions from Indian habitation to Spanish, Mexican and American rule.
Dates: Tuesdays, May 14, 21, 28 & June 4, 2019 6:00 pm - 7:30 pm
Time: 6:00 pm - 7:30 pm
Location: Fresno State Downtown Center, Bitwise South Stadium, Room 2, 700 Van Ness at Mono
Fee: $100. Class No. 50560.
REGISTRATION CLOSED
Registration recommended by May 7, 2019.

Instructor: Pat Hunter, one of California's most recognized artists, is best known for her watercolor depictions of historical landmarks. Her commissioned art can be found in numerous corporate and private collections, including more than 25 McDonald's restaurants throughout the U.S. She has a master's degree from CSU Long Angeles and a teaching credential. She has served as adjunct faculty for the State Center Community College District for more than 30 years and as artist-in-residence at Yosemite National Park since 1997. She is co-owner of Gallery II in Fresno.