Division of Continuing and Global Education
Perspectives on the Architectural History of Fresno's Public Buildings and Historic Homes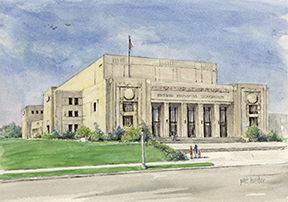 Explore the origins of a selection of Fresno's award-winning government buildings and historic homes. A number of downtown buildings that once housed prominent Valley residents have been repurposed as commercial locations for law firms, accountants, and funeral homes. Both Fresno City Hall buildings were controversial when designed—yet both garnered worldwide attention for their architecture. During this four-week course we'll discuss the original owners of some of Fresno's historic homes—such as the Brix Mansion—and learn their architectural significance. Join Janice Stevens and Pat Hunter and share your reminiscences during the third offering in their series of classes exploring Fresno's extraordinary architectural gems. The class will consist of a one-hour lecture followed by 30 minutes of Q&A and personal reflections, including visual aids (Powerpoint, original paintings and prints).
Dates: Tuesdays, September 11 - October 2, 2018
Time: 6:00 – 7:30 p.m.
Location: Downtown Center, Room 2, Bitwise South Stadium, 700 Van Ness at Mono
Fee: $100. Class No. 77615. Pay online at the red Register button below, or download registration form (PDF) here.
REGISTRATION IS CLOSED
Registration recommended by September 4, 2018.
Instructors: Janice Stevens and Pat Hunter are the author and illustrator, respectively, of ten California history books and write the popular Pastimes column in Central Valley Magazine. They are co-owners of Gallery II-Pat Hunter Studio Fresno (www.gallery2fresno.com).