Division of Continuing and Global Education
Introduction to 3D Modeling & Animation

This class has been cancelled and may be rescheduled at a later date.

The Fresno State Downtown Center presents Introduction to 3D Modeling & Animation, a brand-new, six-week workshop. Learn 3D modeling and animation with the powerful, FREE software used by countless professionals!
Workshop Overview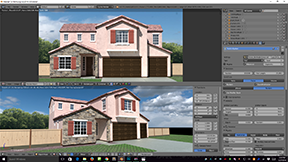 This workshop will include lessons on how to model, rig, animate, and render in Blender. A final project will be produced that brings together the student's work in an animated sequence representative of something one might do for a real estate visualization project. Additionally, this workshop will explore how content created in Blender can be exported for use in other applications.
Students will learn how to:
MODEL buildings & other "man-made" geometric objects.
DESIGN smooth & "organic" surfaces using surface smoothing & spline modeling.
CREATE texture maps for 3D objects.
ANIMATE a 3D character's movements with a rigging system.
RENDER quality images using Blender's Cycles engine.
EXPORT content created in Blender for use in other applications.
ASSEMBLE complete rendered scenes with buildings, objects, & animated characters!
Registration Information
Workshop Name: Introduction to Blender (EXARTD 113; Section 90; Class No. 77520)
Dates: Mondays & Wednesdays; September 24 - October 31, 2018
Time: 6:00PM - 9:00PM
Location: Geekwise Room #2 @ Bitwise South Stadium (click here for directions)
Fee: $250
Requirements: Please bring a laptop. A limited number of laptops are available for use during class time. Students may reserve a laptop by emailing David Hoff at davhoff@csufresno.edu.
Deadline: September 24, 2018. Registration is not permitted once the class has begun.
About Blender
Blender is a free software suite for 3D modeling and animation. It is available to download at no cost. To learn more and download the software, visit blender.org.
About the Instructor
Matthew Hodge has taught interactive game design at the Center for Advanced Research and Technology (CART) since 2013. He is skilled in 3D modeling, texture mapping, rigging, and animation and has expertise with Adobe, Autodesk, Unity 3D, Blender, and Microsoft Visual Studio applications. He has programming experience with Java, C#, JavaScript, PHP, MySQL/SQL, and HTML/CSS.
Contact Us
Email cgeinfo@csufresno.edu if you have any questions.