Division of Continuing and Global Education
Basic Design Principles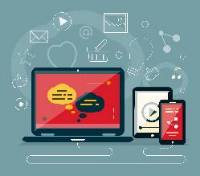 Designed for those who are responsible for their organization's marketing, advertising and corporate communication—but who lack the training and/or experience necessary to create professional-looking print and digital graphics—this class presents the foundations for creating and applying accepted design principles.
Students will gain a basic understanding of the following graphic design issues:
design program options
use of vector & bitmap images
when to use RGB vs CMYK
hi-res vs. low-res digital images
proper use of positive and negative space
ideation
typography
image manipulation
copy editing
proofreading
pre-press
uploading files to media or printer, and more
Note: this is not a "hands-on lab," but students may bring their own laptops to class.
Date: Tuesday, December 1, 2015
Time: 6:00 p.m. - 9:00 p.m.
Location: CMAC, 1555 Van Ness Avenue at Calaveras (the former Met Museum building)
Fee: $100. Class No. 77070. Registration recommended by November 24.
To download a registration form, click here.
Instructor: Doug Morris is currently a freelance illustrator who spent 25+ years working as an Art & Creative Director in both national and local advertising agencies. A graduate of the Art Center College of Design in Pasadena, he has won numerous awards for advertising design and has taught classes in Concept Development and Professional Practices for Graphic Designers for Fresno State's Graphic Design department.
REGISTRATION IS NOW CLOSED