Division of Continuing and Global Education
Advanced Brewing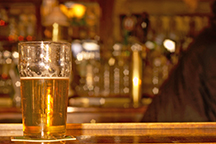 Following up on the popular Brewing Basics course offered last summer, Advanced Brewing will provide a deeper understanding of the brewing processes that will enable students to identify and treat the causes of off flavors in beer. The instructors will address 1) mashing and water chemistry, 2) yeast and fermentation/microorganisms, and 3) sanitation practices.
Along with past instructor Brad Edmunds (Zone 9 Brewing Company), guest instructors will include Drew Morden (Tioga Sequoia Brewery), Mike Sumaya (Incinerati Brewing), and Joseph Solano (411 Broadway).
Each week students will attend one lecture and one lab session where they will sample and identify specific flaws in beer. The final night, students will be given a blind test of beer with specific off flavors in order to identify their causes. This program is offered in cooperation with the Central Valley Brewers Guild. Students must be age 21 or older and have home brewing experience or have completed Brewing Basics at the Downtown Center.
This course was preceded by Brewing Basics and will be followed by Taproom Operations and Marketing. Participants will receive a certificate for completing each section and those who attend all three sections will receive a certificate of completion and the opportunity to earn Cicerone Beer Service certification.
Dates and Times: Tuesdays & Thursdays, October 22 - November 14, 6 pm - 7:30 pm

Location: Fresno State Downtown Center, Room 1, Bitwise South Stadium, 700 Van Ness at Mono and Tioga Sequoia Brewery
Fee: $150. Class No. 77417. There is a $3 materials fee that is payable at the first class meeting.

Pay online at the red Register button below or download the registration form (PDF) and mail with your check.
Preregistration recommended by October 15, 2019.
REGISTRATION CLOSED
Instructor: Brad Edmunds is co-owner and brewer of Zone 9 Brewing Company in Clovis, CA. He began homebrewing in 1994 and in 2016 with three friends opened Zone 9 Brewing Company. He is a high school administrator and previously a high school science teacher.