Division of Continuing and Global Education
Construction Management Professional Development Program
An exceptional education opportunity for those who want to further their knowledge and skills in the construction industry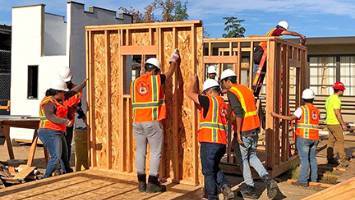 The Construction Management Department is proud to offer our Professional Development Program for those interested in furthering their knowledge of the construction industry. Our experienced instructors prepare construction professionals to advance their careers by gaining a better understanding of project delivery, plans & specifications, procurement, planning, controls, and management practicum (see course descriptions below). It provides students with an opportunity to refresh and revamp their knowledge of these concepts while deepening their understanding of the industry as a whole. Certificates are awarded to students upon completion of each course.
List of courses
Construction Project Delivery - Identifying key stakeholders, project life cycles, codes & regulations, planning, and administration in construction.
Construction Plans & Specifications - Understanding plans, drawings, specifications, and scheduling.
Project Procurement - Understanding estimating, pricing, bidding, and cost summary processes with the use of Microsoft Excel.
Project Planning - Learning processes and tools commonly used to plan and schedule a construction project.
Project Controls - Managing costs, scheduling, quality, and safety.
Management Practicum - Applying Construction Management skills to a given project.
REGISTRATION CLOSED
Questions, please email us: CMPD@mail.fresnostate.edu
Phone: 559.278.6056
Fax: 559.278.4475