Division of Continuing and Global Education
Drawing, Mixed Media and Watercolor-CANCELLED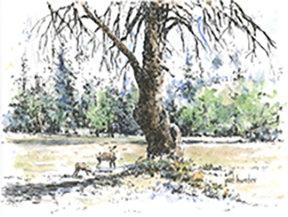 Everyone can draw! In this class, you'll gain a solid foundation and the tools to create a finished composition incorporating the perspective learned in class. You'll be introduced to the seven elements of art (line, color, shape, form, value, space, and texture) with an emphasis on one, two and three-point perspective to create visual space on a two-dimensional surface. Please bring a 9 x 12 drawing pad (not newsprint) and a yellow #2 pencil to class. Those with previous drawing experience will be guided through more advanced techniques and introduced to mixed media and/or watercolor. A materials list will be provided after enrollment.
Instructor: Pat Hunter, one of California's most recognized artists, is best known for her watercolor depictions of historical landmarks. Her commissioned art can be found in numerous corporate and private collections, including more than 25 McDonald's restaurants throughout the U.S. She has a master's degree from CSU Los Angeles and a teaching credential. She has served as adjunct faculty for the State Center Community College District for more than 30 years and as artist-in-residence at Yosemite National Park since 1997. She is co-owner of Gallery II in Fresno.
This workshop is not currently being offered.