F-1 Employment Options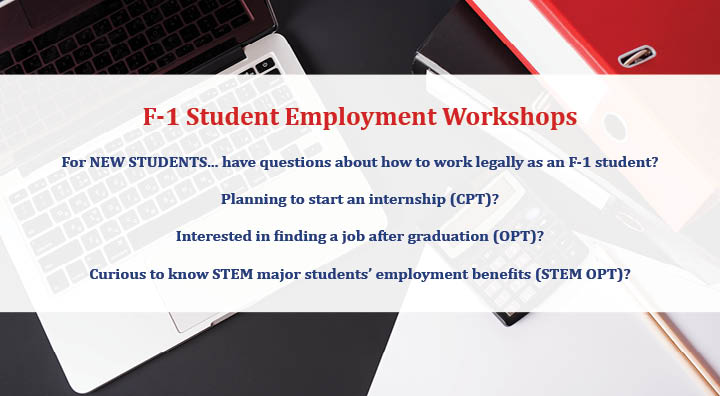 Since the International Office is currently operating remotely, the CPT and OPT workshops are made available on CANVAS. To access the online workshops please follow the path below:
Log in to "My Fresno State" ==> "Canvas" ==> Under "International Office" ==> "Employment" ==> and choose OPT or CPT workshop. ==> Complete the OPT quiz/ CPT quiz and screenshot the result as your proof of completion.
You also have the alternative option to attend the interactive CPT/OPT workshop through zoom meeting virtual delivery where you will get the most up-to-date info and an interactive environment to ask questions. Please see the schedule below for your options and complete the Employment Workshop Sign-up form if you are interested in attending to receive the zoom link.
H1B workshop. Thursday, February 3, 2022; 5:00pm-6:00pm
OPT workshop. Wednesday, March 2, 2022; 3:00pm-4:00pm
CPT workshop. Tuesday, April 5, 2022; 3:00pm-4:00pm
OPT workshop. Monday, May 2, 2022; 3:00pm-4:00pm
For further inquiries, you may contact the International Office at
international@mail.fresnostate.edu