American English Institute
Admission Requirements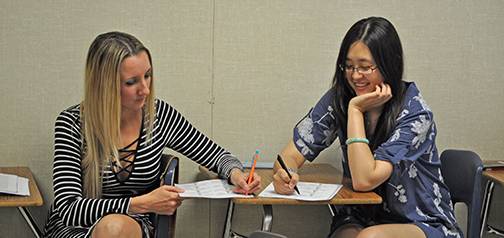 The admission requirements for the American English Institute (AEI) are as follows:
All applicants must be 18 years of age or older.
All applicants must also have an F1 or a J2 visa, be a US permanent resident, or be a US citizen. We cannot accept any applicants on tourist (B1/B2) or F2 visas.
All applicants must have a low-intermediate or higher English ability. The AEI does not offer a beginning level of instruction. Click on this Self-Assessment if you are unsure of your level. You should understand about 90% of the Student Reading Self-Assessment passage and answer at least 4 out of 6 questions correctly.
Applicants must have enough money to pay all program fees. The AEI does not offer scholarships.
Applicants must have enough money for living expenses. Students should be prepared to spend approximately $900.00 each month on living expenses, including transportation, housing, food, textbooks and personal expenses.
Students must be prepared to attend classes every day and to do homework regularly both to improve their English skills and to maintain their F-1 student status.
Admission to the American English Institute does not ensure admission to California State University, Fresno. Students interested in attending California State University, Fresno, after attending the AEI should contact the International Student Services and Programs (ISSP) office for application and admission information.
AEI in Your Language