Prabal Angrish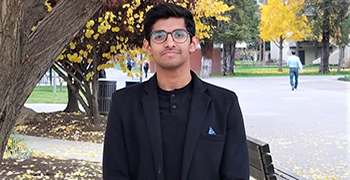 Country/Languages: India/English, Hindi, Punjabi
Major: Mechanical Engineering
Why did you choose Fresno State?
I chose Fresno State because of its cost-effectiveness, and because it has an excellent program for Engineering Majors. Also, Fresno State is located in California which has always been my dream place.
What's the best thing about Fresno State?
As I'm spending more time here; I've realized how student-friendly the whole university is. There are tons of opportunities to get involved and everyone welcomes you with open arms, and the whole university is very resourceful too.
What are your favorite campus activities?
My favorite campus activities include bowling, playing pool, and taking part in events that are relevant to some festivals or holidays like Halloween, Christmas, etc. I also love to play Racquetball in the Student Recreation Center.
What are your favorite local activities?
I love playing soccer on Thursday nights in Clovis. I also like trying out new places to eat, and in my free time, I just love to watch movies/shows in my blanket with a lot of snacks.
What's your favorite thing to do in Fresno, California?
I love exploring new things and places to go to Fresno and close to Fresno like Yosemite, Millerton Lake, etc. I also love the fact that there are so many places to eat with different kinds of foods.
What are your plans after you graduate?
After I graduate, I want to use my degree in Mechanical Engineering to get a good job in California; get some experience, and then pursue my masters here. After that, I want to use my education to help expand my Dad's business which is based in India. I want to take my Dad's business to a global level. I want to gain hands-on experience in different fields of Mechanical Engineering which will be useful to help expand my Dad's factory, and I think California is the best place to gain first-hand experience about technical jobs.
Advice for new students?
The best piece of advice I would give to the new students is not to be shy or self-centered. Respect people's boundaries and space at all times, but don't be afraid to make friends with people or to socialize with people, and always try to get involved as much as you can with all of the campus activities. There are a huge number of chances for international students to get involved on campus, take every chance that you possibly get; that way students can gain different kinds of experience and also learn how to have fun and be professional at the same time.