Farzam Maymand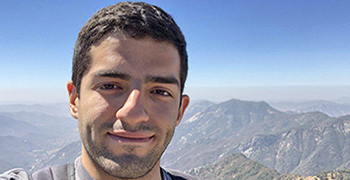 Country: Iran
Languages: Persian and English
Email: farzam.issp.ia@gmail.com
Hometown: Maymand, Kerman
Major: Philosophy
Why did you choose Fresno State?
Fresno State offers many academic programs to suit the interests of students from different ethnical and academic backgrounds.
What's the best thing about Fresno State?
With the diverse and rich culture that exists in the Fresno state community, it is easy for students to find the activities that they are interested in.
What are your favorite campus activities?
The Library is one of the resources on campus that helps students academically and provides numerous services to them, and I spend a few hours of my day studying and using these services.
What are your favorite local activities?
Going to Yosemite and Sequoia National Parks is one of my favorite things to do in the area, and fortunately, they are not too far away from Fresno.
What's your favorite thing to do in Fresno, California?
I enjoy going to Museums and different sports events that take place in Fresno.
What are your plans after you graduate?
I will apply to a few law schools and continue my education.
Advice for new students?
Try to socialize with other students through various social events offered by different organizations on campus.