Fares Allhaidan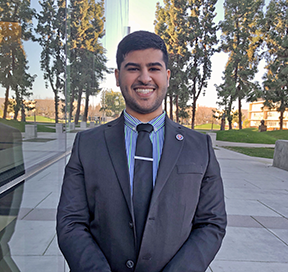 Country/Languages: Saudi Arabia (Arabic/ English/ Spanish)
Major: Electrical Engineering
Why did you choose Fresno State?
I chose Fresno State based on 1-My uncle's recommendation, 2-Excellence in Bachelor Degree, 3-The location, which is the center of California
What's the best thing about Fresno State?
The best thing about Fresno State is how diverse, creative, and efficiency it is.
What are your favorite campus activities?
My favorite canvas activities are BullDog Wednesday, coffee hours, and vintage days.
What are your favorite local activities?
My favorite local activity is leadership events because I get to meet people that have the same goals or motivations.
What's your favorite thing to do in Fresno, California?
My favorite things to do in Fresno are to attend activities, try new restaurants, and visit historical places.
What are your plans after you graduate?
My plans after graduation are to run for my master's in business management, then working for a company for a couple of years, and ultimately having my own company.
Advice for new students?
My advice is to make sure to have good communication with professors and advisors, therefore you would feel comfortable to ask for their help. Another thing is to get things done before its due. Lastly, it is a good practice to review the lecture in advance before the instructor elaborates it.