American English Institute
AEI Online Program
The AEI is now offering an online Intensive English course! If you are interested in taking an online course, either as a part-time or full-time student, please complete our AEI Interest Form. This will allow us to contact you with detailed instructions on how to apply.
Course Description
The AEI has been serving English language learners since 1972. We are happy to announce the addition of an online course option. Our courses focus on academic English, test preparation, and building overall English fluency. Improve your English skills anywhere in the world!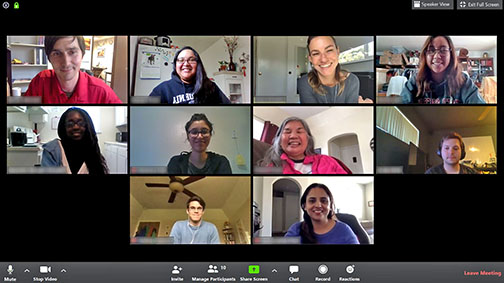 Full-time students will have a total of 10 hours of scheduled live sessions, and 10 hours of guided self-study for 8 weeks (2-3 months). You will also have access to one-on-one tutoring and weekly conversation with native English speakers and international students from around the world.
Upcoming Start Dates
Summer 2020 – June 1 – July 23
Early Fall 2021 August 16 – October 8
Late Fall 2021 October 11 – December 3
Meeting Times: TBD
Course Fees for 8-weeks of instruction
Courses

Course

Reading/Writing

8 hours x 8 weeks

Listening/Speaking

8 hours x 8 weeks

Test Preparation

2 hours x 8 weeks

American Experience

2 hours x 8 weeks

Grammar

2 hours x 8 weeks

Individual Class Cost

$1,920

$1,920

$600

$600

$600

Full-time Intensive Online English Program Cost

$2,350
*Course configurations are subject to change from session to session.
For more details about the online course, please contact Mr. Deni Dukic at ddukic@csufresno.edu.