American English Institute
Administrative Staff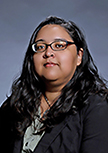 Alyssa Tobar
Admissions and Advising Specialist
Alyssa was born and raised in Fresno, California. She serves as the AEI Admissions and Advising Specialist. She graduated from Fresno State in 2016 with a Master of Arts in Linguistics. She has several years of experience working with ESL students at both the IEP and community college level. Alyssa is excited to welcome new students to the AEI!

Oliver Merson
Academic Development Specialist
Oliver was born in Oakland, CA and raised in Fresno. He serves as the Academic Development Specialist at AEI. He earned his M.A. in TESOL from Portland State University in 2013 and has been teaching ever since. Oliver can't wait to meet new students, share what he knows about English with them, and be their guide on this journey of discovery!
Instructional Staff