Veterans Education Program
Veterans Onboard Program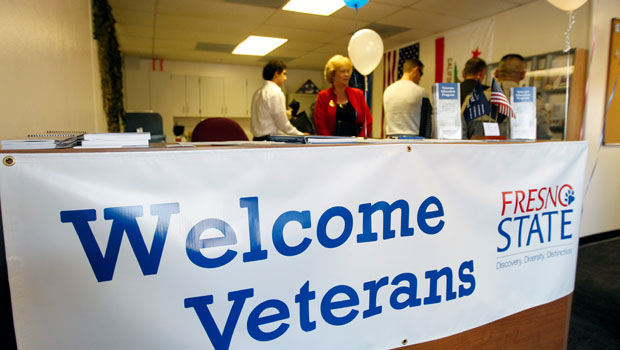 The Veterans Education Program provides returning veterans with a parallel admission route into Fresno State. The Program offers required coursework necessary for admittance into the University. After successful completion of this program, student veterans may transition to matriculated status at Fresno State.
The Program identifies first-year student veterans from two populations: veterans who have been denied admittance into Fresno State and veterans who are eligible for admittance but lack transfer credit. Eligible veterans may be service-connected and/or honorably discharged.
There are two tracks available for student veterans. Additional coursework may be available to students with established military career specialization.
The program is designed for first-year student veterans looking for part-time coursework as a stepping-stone to a full-time course schedule. Students in this program would otherwise not meet Fresno State's entrance requirements—often due to low test scores or insufficient space in the freshman class.
All course sections are reserved exclusively for veterans. Veterans will take classes as a cohort.
Program Coursework
Fall 2023
Courses for the Fall 2023 semester will begin on August 22, 2023, and will conclude on December 14, 2023. Below is the course list:
Course List

| Course | Day | Time | Instructor |
| --- | --- | --- | --- |
| University 1: Introduction to the University | Tuesdays & Thursdays | 8:00 am - 9:15 am | Foster |
| English 5A: Academic Literacy I | Tuesdays & Thursdays | 9:30 am - 10:45 am | Daher |
| Communication 3: Fundamentals of Public Communication | Tuesdays & Thursdays | 12:30 pm - 1:45 pm | Dosanjh |