Osher Lifelong Learning Institute (OLLI)
Membership Information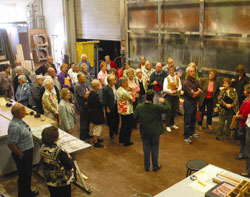 Fresno State's OLLI has a variety of choices for member participation, including General memberships, as well as short courses and field trips. You choose how involved you wish to be, depending on your availability and interests. Seating is limited at some events so RSVP as early as possible! Only registered OLLI members may attend OLLI activities. Membership fees are non-refundable and non-transferable.
OLLI Keynote's and Short Courses are open ONLY to members. Due to space limitations, we cannot accommodate guests. Non-members may attend Field Trips, space permitting, by paying the "non-member" field trip fees.
Anyone can attend a OLLI Keynote by becoming a member. A General Membership is $40 per person in Fall and Spring semesters, and $15 per person during Summer semester and members can attend all Keynote Sessions offered during the semester.
Join Today:
To become a member, please fill out the online registration form or print one and return it to the OLLI office with your payment*. Please note, due to COVID-19, expect significant mail delays.
Osher Lifelong Learning Institute
5005 North Maple Avenue M/S ED76
Fresno, CA 93740-8025
*We only accept checks & money orders payable to Fresno State Foundation. We now also accept Credit Card payments from VISA, MasterCard or American Express.
GENERAL MEMBERSHIP
Admission to all Keynote Sessions scheduled during the semester
Opportunity to sign up for Short Courses and Field Trips
Free parking on-campus during all Keynote Session events and Short Courses
The Library privileges
OLLI-Mail announcements of Fresno State events via email
SHORT COURSES – Fee varies
Open only to OLLI members
Short courses are self-supporting; a minimum enrollment is required or courses may be cancelled
Registration for all short courses is processed on a first-come, first-served basis
Participants are responsible for any course materials required
All courses are non-credit and cannot be applied to a degree at Fresno State or any other institution
FIELD TRIPS– Fee varies depending on destination
Open to members and non-members
Field Trips are self-supporting; a minimum enrollment is required or trips may be cancelled
Registration for all Field Trips is processed on a first-come, first-served basis
Consumption of alcoholic beverages is not permitted in vehicles operated or provided by OLLI