Division of Continuing and Global Education
Project Management for the Workplace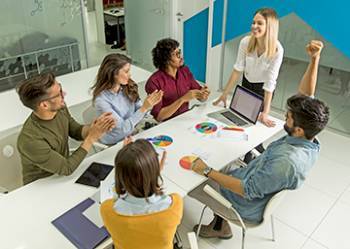 This course is intended as an introduction to project management for the person who needs the skills but does not have the time or need for PMP certification. This is not a prep course for the PMP exam but teaches the concepts and skills for using project management in the workplace.
Upon completion of this eight-hour course, students will be able to:
Identify project goals, constraints, deliverables, performance criteria, control needs, and resource requirements in consultation with stakeholders.
Apply appropriate approaches to plan a new project.
Apply appropriate methodologies to develop a project schedule.
Develop a suitable budget for a new project.
Identify important risks facing a new project.
Apply appropriate techniques to assess ongoing project performance.
Students will be trained in the basic principles of project management, including concepts from the initiating, planning, executing, monitoring & controlling, and closing process groups. The course will also provide training and experience with project management tools and techniques, including work breakdown structures, network diagrams, risk management, earned value management, and other tools. Course materials for this class will be purchased separately and students will receive details upon enrollment.
Suggested textbook: A Guide to the Project Management Body of Knowledge (PMBOK Guide), Sixth Edition. Available for purchase or rent on Amazon.com (price varies from $32 to $66). If students join PMI (www.pmi.org), the book is included in their membership fee. Student membership is $32 (full-time university students) and regular membership is $129.
Completion of this eight-hour workshop may count towards the project management education required to sit for the PMP exam.
Dates: Tuesday - Friday, February 22 - 25, 2022
Please note: This class requires a minimum enrollment and may be cancelled if there is an insufficient number of students enrolled by February 15, 2022. In the event of a cancellation, students will receive a full refund or may transfer their fees to the next session of the class.
Time: 6:00 pm - 8:00 pm
Location: Online via Zoom
Fee: $275. Class No. TBA
REGISTRATION CLOSED
Instructor: Olustee "Steve" Smith is DBE (Disadvantage Business Enterprise) Small Business Coordinator for the City of Fresno. He is a Certified Project Management Professional with over 15 years of project management experience in energy and education. He received his Bachelor's degree from Fresno Pacific and his Master's degree from Keller Graduate School of Management.